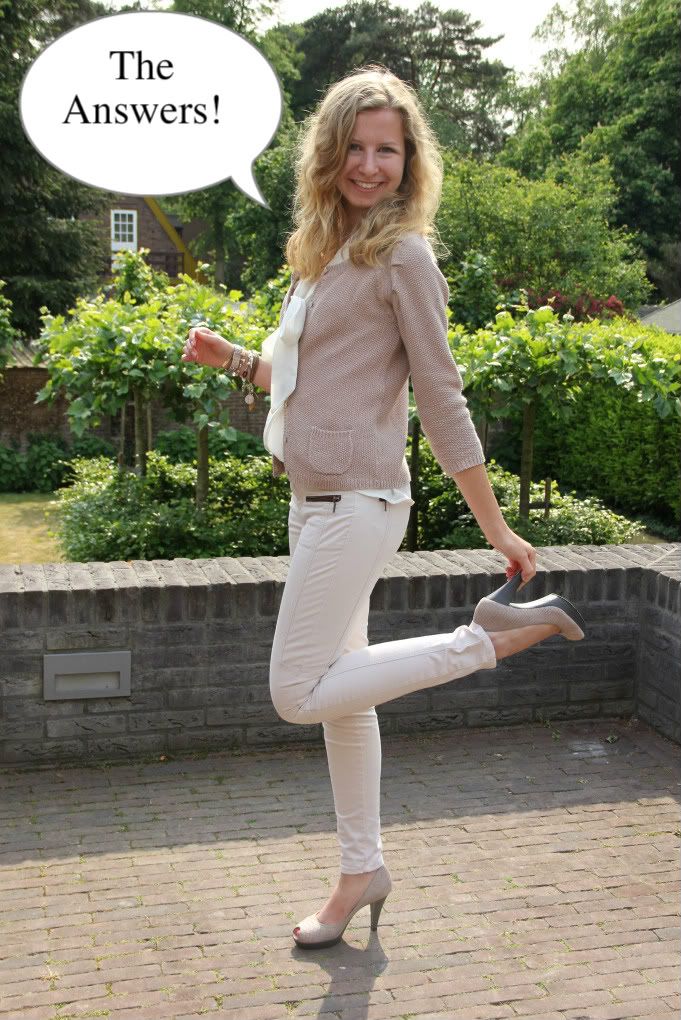 Haai allemaal!
Vandaag geef ik antwoorden op de vragen die jullie hebben gesteld bij mijn Q&A post!
Wanneer ben je begonnen met bloggen?

- Ongeveer een jaar geleden startte ik een blog op Web-Log, maar al gauw ontdekte ik Blogspot, en ging ik daar verder onder de naam Essie Fashion!

Hoe heb je je blog zo groot gekregen?

- Ik heb sinds kort een Canon 550 D en de foto's zijn daardoor een stuk mooier geworden wat jullie waarschijnlijk wel gemerkt hebben!, het is dus belangrijk om mooie foto's op je blog te zetten, dat trekt meer mensen aan, ook is het denk ik omdat ik vrij regelmatig post! En wat ik post vinden mensen leuk!

Waarom ben je gaan bloggen?

- Ik las in een tijdschrift een artikel over bloggers, dat sprak me heel erg aan, en toen heb ik een blog aangemaakt, ik was toen altijd al veel bezig met kleding dus het leek me logisch dat dat het onderwerp van mijn blog werd!

Wat is je duurste kledingstuk/schoenen in je kast?

- Dat zijn mijn winterlaarzen, ik heb legergroene van de Bijenkorf, die waren 200- , een echt heel duur kledingstuk heb ik niet, de duurste zijn denk ik mijn Levi's jeans(99-) en Supertrash broek(119-)

Hoe financier je al je kleding en schoenen?

- Sinds een half jaar krijg ik kleedgeld,100 euro per maand, wel krijg ik een paar zomerschoenen en winterschoenen, ook pas ik heel veel op, daar verdien ik ongeveer 100 euro per maand mee, en al mijn geld besteed eigenlijk aan kleding,schoenen en accessoires ;)

Wat zijn je favoriete blogs op dit moment?

- mijn favoriete blogs zijn op dit moment: The Blonde Salad, Style Scrapbook en Kayture

Wat is je favoriete winkel?

- De winkels waar ik de meeste kleding koop zijn De Zara , Mango en H&M, soms kom je natuurlijk in een stad nog een leuk winkeltje tegen en daar kan je dan ook leuke dingen vinden! Met schoenen en laarzen verschilt het heel veel, de ene keer koop ik iets online en de andere keer koop ik iets in de Bijenkorf of een schoenen winkel bij mij in de buurt zoals ShoeLab.

Wat is je favoriete liedje? -

Qua muziek luister ik veel naar de top 40, echt een lievelings liedje heb ik niet, dat wisselt per week ;) maar nu vind ik I'm into you van J-Lo heel leuk :D

Welk kledingstuk/accessoire zou je ondanks wat het kost nog graag willen hebben?

- Dat zou denk ik een Hermes Birkin bag zijn, maar die ga ik hoogst waarschijnlijk nooit bemachtigen aangezien ze ongeveer 6100 euro kosten ;)

Wie maakt de foto's op je blog?

- Meestal mijn broertje Maurits en als hij geen zin heeft doet mijn moeder het ;)
De volgende 10 vragen beantwoord ik later, anders werd de post wel heel erg lang :)
Ik hoop dat jullie het leuk vonden om te lezen!
Hi all!
Today I will answer the questions that you've asked in my Q&A post!
When did you start blogging?

- I start blogging about one year ago first I started a blog on Web-log, but soon I discovered Blogspot, and I went there under the name Essie Fashion!

How did you blog got so big?

- I have recently bought a Canon 550 D and the pictures are so much more beautiful as you probably noticed!, So it's important to take good photos on your blog, that attracts more people, also I think it's

because I post quite often!

And what I post like the people like ;)!

Why did you start blogging?

- I read in a magazine an article about bloggers that I really liked!, and that day I created a blog too, I always loved clothes so it seemed logical to me that that should be the subject of my blog!

What is your most expensive item of clothing/shoes in your closet?

- Those are my winter boots, I have army green boots which were 200 euro -, a really expensive piece of clothing I haven't, I think the most expensive are my Levi's jeans (99 -) and my Supertrash trousers (119 -)

How do you finance all your clothes and shoes? - Since a half year I get clothing money, 100 euro each month, but I get one pair of summer shoes and winter shoes, I 'Baby sit' a lot and I get about 100 euros per month with it, and

basically spent all my money on clothes, shoes and accessories ;)

What are your favorite blogs at the moment?

- My favorite blogs are currently: The Blonde Salad, Style Scrapbook and Kayture

What is your favorite store?

- The stores where I buy the most of my clothes are The Zara, Mango and H&M, sometimes I buy in a litte shop something really nice.

Shoes and boots I buy sometimes online or at a department store ;)

What is your favorite song?

- In terms of music I listen a lot to the top 40, but I don't have a favorite song, that changes every week ;) but now I listen a lot : I'm into you from J-Lo :D
What clothing/accessory would you really like to have if it can be everything?

- I would think an Hermes Birkin bag, but I will probably never get one because they are about 6100 Euros;)

Who makes the photos on your blog?

- Mostly my brother Maurits takes the picures and if he does not feel like it my mother take some pictures ;)
The next 10 questions I will answer later, otherwise this post is very long:)
I hope you enjoyed reading!